Energy and Infra-structure assets are mostly designed and installed for long life operations ranging between 25 to 35 years. When an asset having a designed life of 25 years reach a life of around 20 - 25 years it is called Late-Life-Asset. Late-life period is a relative term – a short-life asset (for example 10 years) will enter a Late-Life stage in probably 7 – 10 years while a long-life asset (for example 35 years) may enter Late-Life stage during 30 – 35 years of operation.
Table below helps in understanding this concept.
During its life cycle an asset is required to be continuously monitored for integrity. Integrity of asset is considered ensured when the combination of likelihood of failure and the consequence of failure (the risk to people, to the environment, and to the company) are kept to a level which is reasonably practical lowest. Asset integrity, safety, and reliability are major concerns for managers associated with Asset Integrity Management (AIM).
Consequently, the main objective of an Asset Integrity Management Systems (AIMS) should be to outline the ability of an asset to perform its required function effectively and efficiently whilst protecting health, safety and the environment with additional assurance that the people, systems, processes, and resources that deliver integrity are in place, in use and will perform when required over the whole lifecycle of the asset.
For assets involved in Oil and Gas installations and Petrochemical Plants, API (American Petroleum Institute) recommended practice documents are widely recognized as guidance for ensuring an asset's Fit-For-Service condition while extending its remaining life in the most reliable, safe, and cost-effective manner. Following text provides information about AIM methodology adopted by API and importance of inspection as highlighted by API documents.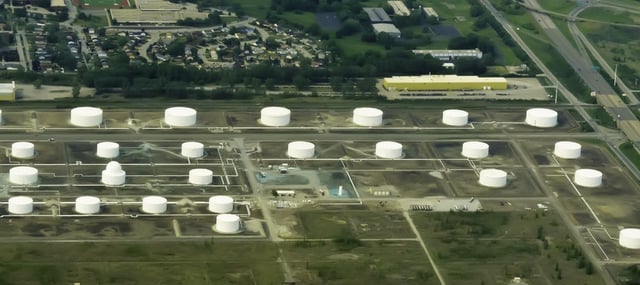 API 579-1 / ASME FFS-1 provides Fitness-For-Service assessment procedures that can be used to evaluate flaws commonly encountered in pressure vessels (API 510 – Pressure Vessel Inspection Code), piping (API 570 – Piping Inspection Code) and tankage (API Std 653 – Tank Inspection, Repair, Alteration and Reconstruction).
The procedures in this standard can be used for Fitness-For-Service assessments and/or rerating of equipment designed and constructed to recognized codes and standards, including international and internal corporate standards. The assessment procedures are based on allowable stress methods and plastic collapse loads for non-crack-like flaws, and the failure assessment diagram (FAD) approach for crack-like-flaws.
The Fitness-For-Service assessment procedures in this standard cover both the present integrity of the component given to a current state of damage and the projected remaining life. Assessment techniques are included to evaluate the following flaws: general and localization corrosion; widespread and localized pitting; blisters and hydrogen damage; weld misalignment and shell distortion; and crack-like flaws, including environmental cracking, laminations, dents, and gouges.
Also included are remaining life assessment procedures for components operating in the creep range. In addition, evaluation techniques are provided for condition assessment of equipment, including resistance to brittle fracture, long-term creep damage, and fire damage. API 579-2/ASME FFS-2 provides example problems illustrating the use and calculations required for Fitness-For-Service assessments described in API 579-1/ASME FFS-1.
Acknowledging the importance of inspection in AIM, API has researched and developed an approach to risk-based inspection (RBI) – an integrated methodology that uses risk as a basis for prioritizing and managing an in-service equipment inspection program by combining both the likelihood of failure and the consequence of failure. API RP-580 (Risk-Based Inspection) provides users with the basic elements for developing and implementing a RBI program for fixed equipment and piping in the hydrocarbon and chemical process industries.
API RP 581 (Risk-Based Inspection Technology) document details the procedures and methodology of RBI. Utilizing the output of the RBI, the user can design an inspection program that manages or maintains the risk of equipment failures. According to API RP 581, following are three major goals of the RBI program.
Provide the capability to define and quantify the risk of process equipment failure, creating an effective tool for managing many of the important elements of a process plant.

Allow management to review safety, environmental, and business interruption risks in an integrated, cost effective manner.

Systematically reduce the likelihood and consequence of failure by allocating inspection resources to high risk equipment.
The RBI methodology provides the basis for managing risk by making informed decisions on the inspection method, coverage required, and frequency of inspections. In most plants, a large percentage of the total unit risk will be concentrated in a relatively small proportion of the equipment items. These potential high risk components may require greater attention, perhaps through a revised inspection plan.
With a RBI program in place, inspections will continue to be conducted as defined in existing working documents, but priorities and frequencies will be guided by the RBI procedure. The RBI analysis looks not only at inspection, equipment design, and maintenance records, but also at numerous process safety management issues and all other significant issues that can affect the overall mechanical integrity and safety of a process unit.
API RP-580 and RP-581 are supplemented by API RP-571 (covers damage to equipment in the refining process), API RP-572 (covers the inspection of pressure vessels including reasons for inspection, causes of deterioration, frequency and methods of inspection, methods of repair, and preparation of records and reports), API RP-574 (Inspection Practices for Piping System Components) by providing piping inspectors with information that can improve skill and increase basic knowledge and practices).
DRONES INSPECTION CAN HELP
Inspection Drones fitted with visual cameras and IR cameras can help in implementation of RBI inspections of Oil & Gas assets under API RP-580 as well as Fitness-For-Service Analysis under API 579-1 / ASME FFS-1. Inspection Drones which are designed for operations in closed or congested spaces can prove extremely advantageous for inspection carried out under piping (API 570 – Piping Inspection Code) and tankage (API Std 653 – Tank Inspection, Repair, Alteration and Reconstruction).
There is no doubt that supported by back-end data analyses and processing capabilities, inspection drones are a useful tool for managing risk by making informed decisions on the maintenance requirements and frequency of inspections. With regards to RBI analysis, periodic drone inspections can provide vital information regarding numerous process safety management issues that can affect the overall mechanical integrity and safety of a process unit.
About Industrial SkyWorks:
Industrial Skyworks (ISW) is a commercial, Unmanned Aerial System (UAS) and data management solutions company with offices in Houston, Toronto and Trinidad. Founded in 2012 by pilots with backgrounds and expertise in aircraft safety systems, risk management and aeronautical sciences, ISW inspects buildings, and oil and gas infrastructure using small Unmanned Aerial Systems (sUAS). They are the first company ever to receive FAA approval for night-time commercial drone operations and flew the first ever FAA-sanctioned night flight in the U.S., in the Fall of 2016.