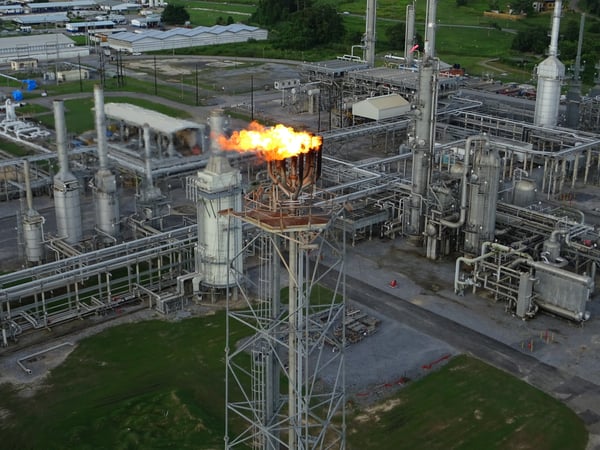 In the UAV industry, there is still discussion and developments among the manufacturers to define what can universally be understood to be an intrinsically safe drone platform. UAVs have however been successfully been deployed to inspect hazardous energy and petrochemical sites, worldwide, for over the past 8 years. The specific health and safety plan for every facility where an inspection project takes place will be different from facility to facility; but there are set of guiding principles that successfully reduce the risk of professional UAV inspection operations to acceptable levels.
Choice of platform
Most professional UAV platforms now utilize brushless, magnetic motors that dramatically reduce risk of ignition from friction. While some long-range and heavy-lift UAVs are powered by liquid fuel, any UAV platform used for inspection purposes over hazardous sites will utilize sealed batteries.This is especially important when flying over sites when performing drone inspections such as live flare stacks is that the risk of spark on battery connectors, or of UAV mounted components (such as external batteries and sensor payloads) falling, is minimized. UAV platforms that incorporate internal batteries that are incorporated inside the UAV's body, together with sensor payloads that are mechanically integrated into that UAV, should therefore be the type that are deployed on these types of projects.
Flight planning
The best way to mitigate risk when undertaking inspection over flammable and hazardous sites, is through comprehensive planning. The reason that drone inspection is used at all, is because it enables visual and non-destructive inspection of a site to be undertaken from a distance, and without inspection personnel needing to be on the structure itself.
With increase in distance, also comes decrease in risk; as does the concept of exclusion zones come into factors that dictate intrinsically safe procedures2. Pre-planned flight paths can easily keep a drone a typical 20-50 feet from a structure, high resolution imaging can easily be captured 300 feet away; the exact distance will always be defined in discussion between the UAV inspection service provider and the facilities manager at the plant. Common-sense also dictates that flat plans keep the UAV at an angular tangent away from the structure, rather than directly overhead should anything fall.
Click to Download Oil and Gas Drone Inspection Sample Report
Deploying UAVs to inspect highly flammable sites
All operations around oil and gas -related infrastructure need to be carefully regulated and tightly controlled. Policies such as those related to intrinsic safety have long been in place to protect both people and the environment on these types of sites. While intrinsic safety describes a set of electrical design principles, it also considers deployment procedures too.
UAV platforms are not fully intrinsically safe in their electrical design. However, professional UAV inspection operations have proven to offer an inspection procedure that minimizes health and safety risk to both plant staff and the public; in addition to bringing significant economic savings to the plant through not needing to entirely shut down production.
Central to obtaining these benefits from drone inspection is utilizing professional UAV equipment and flight procedures. If deployed correctly, both the time that site inspection personnel spend with their feet on the ground, and a facility's economic savings, will be maximized.