A petroleum refinery, commonly known as oil refinery, is a complex processing plant where petroleum (crude oil or condensate recovered from underground reservoir) is processed and refined. Petroleum when recovered as crude is not of much use for industrial or fuel consumption until impurities are removed from it and it is separated into useful products – solids, liquids and gases.
The Petroleum Tree (origin 1943) illustrated in figure below indicates the numerous useful industrial and fuel products which are obtained from the crude oil when it gets processed in a petroleum refinery.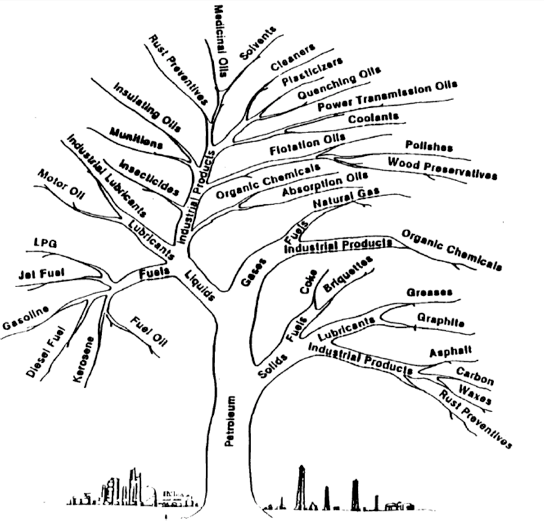 Continuation of successful and safe operation of a petroleum refinery – a complex processing plant – is dependent on preventive maintenance supported by modern NDT techniques.NDT is useful to inspect, test or evaluate various systems (within the refinery) for existing or impending discontinuities or variations from known characteristics without hurting the serviceability of components or entire asset. The first step in implementing NDT or NDE is periodic INSPECTION of the asset.
Petroleum refinery comes under midstream companies and is a high value asset. The products that are handled are inflammable which require adherence to Compliance Standards posing compliance obligations defined by relevant authorities in most parts of the world.
Regulatory requirements relate to Reliability and Safety in conducting operations through adherence to OSHA guidelines, Compliance to EPA, Corporate Social Responsibility and Security of Assets for Continuity of Business.
Some of the important technical standards which are directly related to plant-and-piping as well as process handling of refinery are listed here for awareness of reader:
Fire Protection
API RP 752: Management of Hazards Associated With Location of Process Plant Buildings
API 750: Management of Process Hazards
API RP 2001: Fire Protection in Refineries
API Publ 2218: Fireproofing Practices in Petroleum & Petrochemical Processing Plants
NFPA 30: Flammable and Combustible Liquids Code
NFPA 58: Liquefied Petroleum Gas Code
API RP 2021: Title Fighting Fires in and Around Flammable and Combustible Liquid Atmospheric Petroleum Storage Tanks
API Pub 2510: Title Fire protection consideration for the design and operation of LPG Storage Facilities
Electrical & Instrumentation
NFPA 70: National Electrical Code
API RP 554: Process Instrument and Control
API RP 556: Instrumentation and Control Systems for Fired Heaters and Steam Generators
API RP 540: Electrical Installations in Petroleum Processing Plants
BS 5501-9: Electrical apparatus for potentially explosive atmospheres.
IEC 60255 Electrical relays
IEC 60269 Low voltage fuses
IEC 60364 Low-voltage electrical installations
IEC 60439 Low-voltage switchgear and control gear assemblies
IEC 60085 Electrical insulation - Thermal evaluation and designation
IEC 60228 Conductors and insulated cables
IEC 60129 AC Disconnectors and earthing switches
NEMA 250: Enclosures for Electrical Equipment (1000 Volts Maximum)
IEC 60332 Tests on electric and optical fibre cables under fire conditions
Mechanical Structure (non-rotating)
API RP 2021 (R2006): Management of Atmospheric Storage Tank Fires
API Std 2000: Venting Atmospheric and Low-Pressure Storage Tanks – Non-refrigerated and Refrigerated
API RP 2016: Title Guidelines and Procedures for Entering and Cleaning Petroleum Storage Tanks
API 2350: Overfill Protection for Petroleum Storage Tanks
API Std 2510: Design and Construction of Liquefied Petroleum Gas Installations (LPG)
API Std 2610: Design, Construction, Operation, Maintenance, and Inspection of Terminal & Tank Facilities
API RP 1615: Installation of Underground Petroleum Storage Systems
API 521: Guide for Pressure-Relieving and De-pressuring Systems
API Std 537: Flare Details for General Refinery and Petrochemical Service
API RP 579: Recommended Practice for Fitness-for-Service
API 560: Fired Heaters for General Refinery Services
API Std 660: Shell-and-tube Heat Exchangers
API Std 661: Air-Cooled Heat Exchangers for General Refinery Services
API RP 651: Cathodic Protection of Aboveground Petroleum Storage Tanks
API RP 1632: Cathodic Protection of Underground Petroleum Storage Tanks and Piping Systems
ASME codes for pressure vessels
ASME standards for plant piping and pipeline.
ASTM standards for materials usage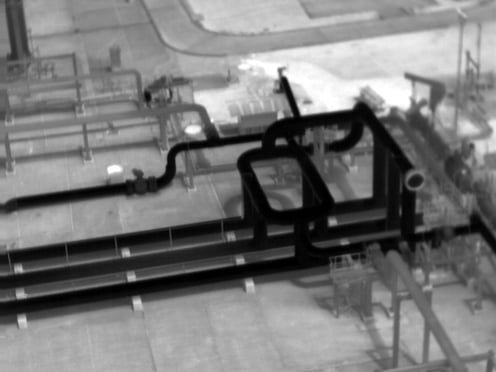 Petroleum refineries have been successfully operating under the guidelines provided by above mentioned API, IEC, NFPA, BS, ASME and ASTM publications. Major portions of petroleum refineries consist of line pipe, fittings, valves, piping, tanks, filter separators, heat exchangers, distillation towers, flare stacks, steel structures, electrical cabling, switchgear, instrumentation etc.
Majority of failures or accidents in refineries have been reported due to damage or failure of these static plant equipment. Mechanical failure of static equipment in refineries can only be prevented through regular oil and gas asset inspection and monitoring by qualified personnel as part of reliability centered maintenance (preventive plus condition based monitoring).
Use of thermal imaging provides very good indication of material, process and mechanical conditions at petroleum refineries. Thermographic examination can be efficiently utilized for detection of abnormalities (hazards) with additional possibility of generation of trends for obtained results over time – invaluable data for preventive maintenance initiatives with significant cost savings.
Using Infrared thermography in oil and gas industry increases the refinery operators' knowledge of the condition of their equipment, thus enabling them to make more accurate and informed decisions. It is well-known that when every other method fails, thermal imaging can still spot the problem. Following are a few examples:
IR thermal imaging can provide accurate and time-saving inspections of electrical cabinets. Thermal imaging is now an important tool for electrical inspections in refineries. A power failure can result in expensive shut downs, and a much greater danger: FIRE.
IR thermal imaging is capable of electrical fault detection, transformer condition, distribution lines and substation inspections. It helps in cost avoidance, which is usually underestimated in cost calculations and relevant decision-making. Cost avoidance is the likelihood of a failure to develop in a worst-case scenario (an unscheduled shutdown) which may have happened if the fault had not been detected.
IR thermal imaging helps in determining the condition of heat exchangers by detecting distribution of heat across coolers and heat exchangers. Thermography spots the areas of poor heating and cooling, thus indicating a waste of energy and improving the efficiency of process operations.
IR thermal imaging is a valuable tool to detect heat loss from steam traps and leaks.
IR thermal imaging accurately determines refractory lining problems. Refractory is an inner lining, consisting of high-temperature resistant materials which protect the outer shell of piping, vessels, and process furnaces from hot gases and fluids circulating inside the plant. When the refractory lining fails, the steel-made shell will quickly be weakened by heat and internal pressure, posing a significant threat of failure of the equipment. Loss of containment, environmental contamination and a significant risk of fires can result.
IR thermal imaging help in detection of buildup of solids in piping which can cause significant deterioration of process flow.
IR thermal imaging is vital for upkeep of tank storage by keeping watch on leaks as a result of ageing assets or corroding tanks.
IR thermal imaging can effectively detect hazardous gases emitted by some refinery processes that can harm the environment and impede the health of company employees and inhabitants of the surrounding area.
IR thermal imaging is a cost effective option when used in conjunction with a consistent infrared thermography program and appropriate professional and reliable equipment. Industrial Skyworks provide oil and gas drone inspection services, Non-destructive Examination (NDT / NDE) and data acquisition services for civil structures and static / fixed assets of refineries. These drone-based field investigations provide invaluable information to the operational and maintenance managers with following added advantages:
Timely reporting and investigation of damage / material loss when carried out under a defined schedule.
Enhanced personnel safety by avoiding close proximity of humans to hazardous environment and dangerous locations.
Firsthand information by supervisor / manager without the need to visit site location.
Provides access to inspectors for investigations without refinery shutdown requirements.
May be the only option for data acquisition under an emergency / accident situation.