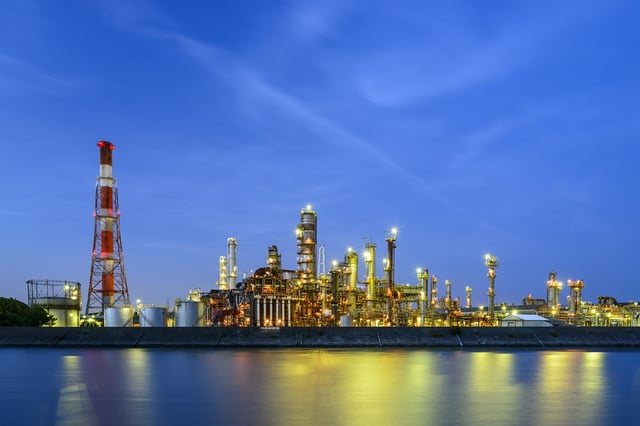 Approximately 80% of industry dollars is spent on maintaining and repairing malfunctioning equipment and engineering systems. Application of well-designed preventive maintenance procedures provides about 50% cost savings.
Traditional methods for implementing maintenance procedures are time-consuming and expensive. In many cases, maintenance tasks are not totally effective because of scheduling constraints, human error, safety restrictions, environmental hazards, and in some cases equipment inaccessibility.
This article proposes six steps for designing and implementing a drone-based preventive maintenance program for the oil and gas industry. It will be explained why drone-based preventive maintenance procedures provide significant improvements over traditional methods.
Overview of traditional maintenance programs
Before proposing drone-based preventive maintenance procedures, it may be useful to highlight the main features of traditional maintenance programs.
The main goals of preventive maintenance are:
To make it possible for equipment to operate reliably, safely, and optimally in a specified environment.
To perform scheduled industrial inspection and maintenance tasks on a regular basis to prevent equipment downtime or failure.
To anticipate possible equipment failure and to regularly perform inspections, calibrations, lubrication, parts replacement, and other activities that will prevent equipment downtime or failure.
To minimize the cost of operating the equipment.
To promptly respond to equipment malfunctions or failure incidents that require maintenance and/or repair while safeguarding the safety of maintenance personnel and technicians.
In the oil and gas industry, types of maintenance that are most beneficial are
Preventive maintenance, which performs planned, periodic and specific tasks to keep equipment in good working order. Normal maintenance tasks involve inspections, lubrication, checking for oil or gas leakage and wear. The purpose of preventive maintenance is to take precautionary and proactive steps to forestall or reduce the probability of equipment malfunction or failure.
Corrective maintenance, which necessitates repair or downtime to return malfunctioning or failed equipment to its operational condition. This is not a desirable type of maintenance. It could be avoided or minimized by performing preventive maintenance.
Predictive maintenance, which uses measurements, signal processing, and reliability engineering to estimate the useful lifetime of the equipment. This type of maintenance supplements preventive maintenance, and it requires close collaboration with equipment vendors.
The need for an improved preventive maintenance program
Traditional maintenance programs for the oil and gas industry involve manual tasks that have many disadvantages. Some of these disadvantages are the following:
Industrial inspections of long pipelines can take a long time. This task requires much manpower and transportation of tools, and it could become a logistic nightmare. Furthermore, pipelines require constant monitoring because they are expected to provide safe transport of petroleum products over remote and possibly hostile and unsafe environments.
Should there be gas or oil leakage, special attire and gear should be provided to inspection crew and technicians who work under unsafe and hazardous conditions to fix the problem.
Sometimes, severe weather conditions make it difficult, unsafe and sometimes impossible to perform urgently needed maintenance tasks.
It is often difficult for maintenance personnel to spot defects such as cracks in mechanical components when the defects are in inaccessible areas.
The use of drone technology will vastly improve upon manual preventive maintenance and industrial inspections. The following six steps will eliminate disadvantages associated with traditional manually based maintenance tasks.
Invest in drone surveillance of pipelines. Drones can reliably and safely inspect large stretches of pipelines in much shorter time and lower inspection costs than human inspection. In certain projects, drone services reduce project costs and inspection time by 90%.
Use drone services technology to increase the frequency of preventive maintenance. Leakages in pipelines can be detected by sensors mounted in a drone. The exact location of leaks will be reported by a drone equipped with GPS technology.
Use drones to inspect and transmit images of mechanical equipment that need replacement due to wear, cracks or malfunction. Drones can take detailed, accurate images of equipment even in locations that are inaccessible to humans.
Use drones to increase the frequency of inspections that are required for preventive maintenance. Apart from significant savings in manpower and insurance costs, a frequent drone inspections will reduce the likelihood of equipment failure or malfunction.
Work with drone vendors to equip drones with robotic tools that can perform simple maintenance tasks such as lubrication and cleaning.
Train maintenance personnel to upgrade their skills and training to include drone-based preventive maintenance.
Conclusions
Because of drone and GPS technology, the idea of replacing traditional preventive maintenance tasks with drone-based tasks is compelling. Advantages that drone-based maintenance provides include reduced cost, rapid deployment, and improved safety which cannot be ignored.
Once the oil and gas industry becomes aware of drone-based preventive maintenance, it is very likely that this method of preventive maintenance will become the new norm.