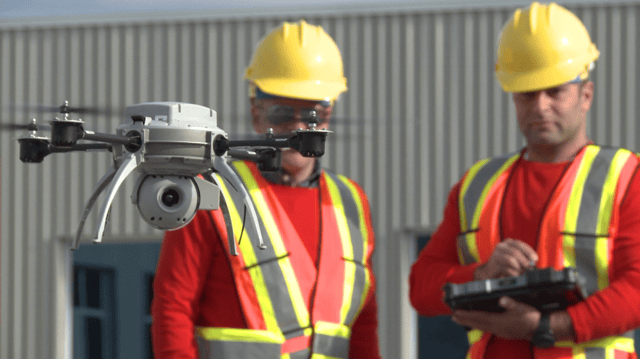 Most of today's building inspections rely on the traditional methods of manually scaling buildings while taking photos or using a manual checklist with a pen and paper.
Workers use Bosun Chairs, suspension scaffolds or swing-stage scaffolds, rope access and other means that allow them to reach the sides or the roof of the building. These methods are not only risky, but also costly, time consuming, and sometimes capital intensive when inspecting tall and big buildings. The job requires more people to complete and the building owner must pay insurance for the workers performing the inspection, something that is not required for the drone operator.
UAV technologies have numerous economic and environmental benefits in keeping industrial and building inspections safe. With the ability to reduce expenses and time to complete inspections , and do so much safer, the drones are likely to become one of the most widely used methods for asset inspections within the next few years.
Demand for safe and fast building inspections have seen a number of industrial asset companies, building owners, Oil and Gas companies, insurers and other supporting businesses adopt emerging UAV technologies. With costs coming down, easing of regulations, and comprehensive software solutions for analyzing data, the use of drones for building inspections is set to increase tremendously within the next three years.
The drones, currently being used for building inspections, and eliminating the risky manual inspections, have the potential to bring down costs while helping in improving quality. Gartner research projects that the construction industry, will account for 30% UAV market by 2020.
There are several benefits of using aerial inspection services, they are able to access difficult to reach locations, take as many photographs as possible, and zoom in whenever required to do so, and especially when there are possible defects. The drones can scale tall buildings within a very short time, do a lot of work , safely, within an hour, and save a lot of man-hours, equipment cost required to access the building, insurance for the workers, etc.
Combining the drones and other technologies such as VR and fast communications links will enable prospective buyers, inspectors and insurance people to take virtual tours of the building almost in real time.
Currently, only a small percentage of construction industry players are using drones. Despite the potential benefits, the commercial market is still small but growing. Some of the challenges include;
Lack of standard data formats to work across different platforms or within existing software environments.

Concerns about midair collisions: Future drones will most likely be equipped with sensors to detect objects and other drones within a certain radius.

Lack of consistent regulations and global standards for the safe operation of drones

Limited drone pilot training to ensure safe UAV operations. There are requirments to train drone pilots on air traffic law, camera usage, meteorology flight time calculation, handling an emergency, etc.
Potential benefits of using drones for building inspections
The potential for drone-based inspections is huge. Technology advances are seeing and more technologies coming together to provide comprehensive and useful data for the construction, Oil and Gas and building industries. From photography to thermal imaging, the drones are providing a wide range of information likely to shape the construction industry in the coming years. Some of the benefits include;
Cost savings by reducing the time, machinery and labor to complete some inspection tasks.

Providing managers with real–time data and video footages of the progress at the site. They do not have to walk around to different sections of a site. The scan in effect increase efficiency while providing data that can be used to evaluate the quality of work and identify defects . The data can be assessed by several engineers either at the site or off-site, hence allowing wider consultation.

The drone surveillance enhances onsite safety and security. It increases productivity .

The drones will allow larger companies to take up and manage multiple projects at the same time, using the same engineers to supervise and coordinate the jobs at a lower cost. This will allow the companies to complete several projects within a short time while providing better quality and saving time and money.

People will be able to get accurate and shareable information cost effectively and faster. Insurers, for example, will be able to get the status of a building and the risk data within a short time.
Future of drones in the building inspections
The number of commercial drones is expected to rise as regulations are eased and the drones become cheaper, smaller, and easy to operate. Innovative technologies in the photo, thermal, and video cameras, Virtual Reality, analytical tools and high-speed communications will enable the use of drones for a variety of Oil and Gas and building inspection applications.
The software solutions will have the ability to consolidate the videotaped images, photographs, and infrared images, into a comprehensive, easy to interpret and understand interactive reports. Using cloud-based technologies, technicians, managers and facility owners can access the report and get accurate information about the status of the building, allowing them to make informed decisions and plan of action.
Several related industries such as insurers, construction companies, Oil and Gas,and supporting businesses are collaborating to set standards on how to establish safe building inspection practices that will generate standard and comprehensive data that each can consult.
There is a huge opportunity for software companies in providing a wide variety of better technologies for data integration, imaging, object recognition, video analytics, motion imagery, and more.
Conclusion
Combining different technologies such as the VR photo, infrared and video cameras will enable drones to provide enhanced possibilities that will streamline and revolutionize the building inspections.
By 2020, there are likely to be standard regulations for commercial drones across the globe. This will allow more businesses and people to own and operate the devices for building inspections and other activities.